SINGER 221 FEATHERWEIGHT 1955
Click to enlarge image(s)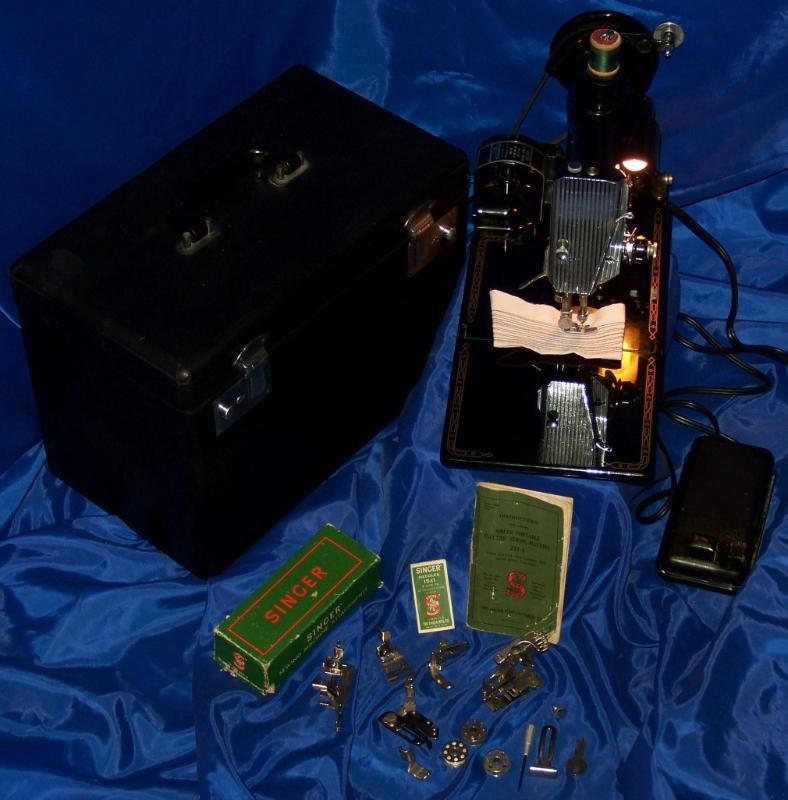 SINGER FEATHERWEIGHT 221 SEWING MACHINE
SERIAL NUMBER AM144267
THIS LITTLE GUY WAS BORN JUNE 1OTH 1955
THIS IS A VERY NICE CLEAN MACHINE, THE SHINE IS SO BEAUTIFUL IT LOOKS WET.
I CLEANED HIM UP AND
GREASED, OILED AND SET TIMING AND
A FEW SMALL ADJUSTMENTS SEWED A FEW STITCHES AND
BOY CAN HE SEW....
I DIDN'T HAVE TO REPLACE ANYTHING BECAUSE EVERYTHING CHECKED OUT.
I FEEL WHEN YOU BUY A MACHINE YOU SHOULDN'T HAVE TO
TAKE IT TO A REPAIR SHOP
BEFORE YOU GET TO EVEN USE IT.
I BUY & SELL A LOT OF THESE MACHINES, FRIST I TEST AND
FIX THEM AS NEEDED,
SET TIMING, CLEAN THE PARTS, GREASE & OIL, IF PARTS NEED
TO BE REPLACED,
I REPLACE WITH ORIGINAL SINGER PARTS, NOT GENERIC.
SO WHEN YOU PURCHASE THEM FROM ME ALL YOU NEED TO DO
IS SET UP AND
~SEW~
PLEASE IF YOU HAVE ANY QUESTIONS AFTER LOOKING AT THIS HANDSOME FELLOW PLEASE ASK,
I WILL DO MY BEST TO GET TO THEM...
"SINGER"
THE BEST-KNOWN AND RESPECTED NAME THE IN SEWING MACHINES FOR MORE THAN 150 YEARS SERVING THE CUSTOMER.
YOU CAN BE CONFIDENT THAT THIS MACHINE WILL LAST YOU UNTIL YOU WANT TO GIVE UP SEWING.
THIS MACHINE WILL BE HERE WAY PAST THE TIME YOU WILL NEED IT.
Singer 221 has the distinct honor or perhaps there has never been a better sewing machine ever made than the singer 221.
As Singer's finest models of sewing machines, 221 was built to last a lifetime.
This is a model that was made by the Singer Sewing Machine Company and
many professional sewers are looking for these 221 models in good condition.
Collectors are looking for this model. It was Singer's top of the line in this class for years and one of their most expensive sewing machine.
NICE FINISH EVEN AFTER 54 YEARS OF USE WITH only a few YES,
THERE MAY BE A FEW LITTLE PIN SCRATCHES VERY LITTLE, WE HAVE TO REMEMBER
THIS MACHINE IS 54 YRS OLD THIS LITTLE GUY SEWS GREAT AND LOOKS GREAT!!!
I SAY IT MAY HAVE BLEMISHES BECAUSE IT IS A USED MACHINE BUT THE BEAUTY
IS REMARKABLE!!!
IT COMES WITH A CASE, ATTACHMENTS, FOOT CONTROL, ORIGINAL SINGER VINTAGE MANUAL, NEEDLES, BOBBINS, AND SMALL SCREW DRIVER.
IF YOU HAVE ANY QUESTIONS PLEASE ASK!!
YOU GET EVERYTHING IN PICTURE
~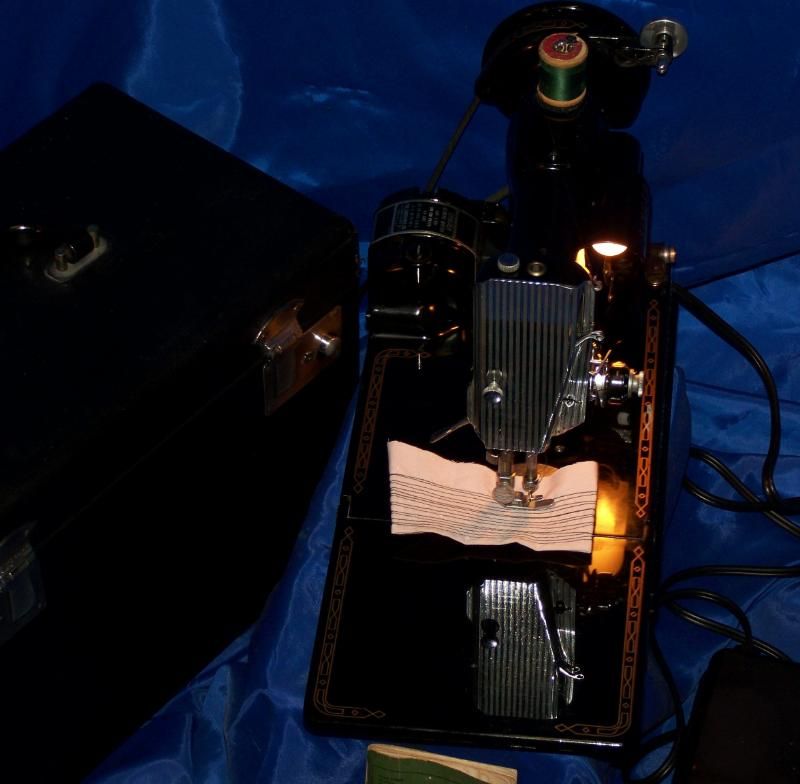 BEAUTIFUL CHROME AND METAL WITH NO RUST
THE DECALS ARE IN GREAT SHAPE
MACHINE AROUND 54 YEARS OLD AND YOU WILL SEE A MIRROR FINISH
LOOK IT OVER FROM TOP TO BOTTOM.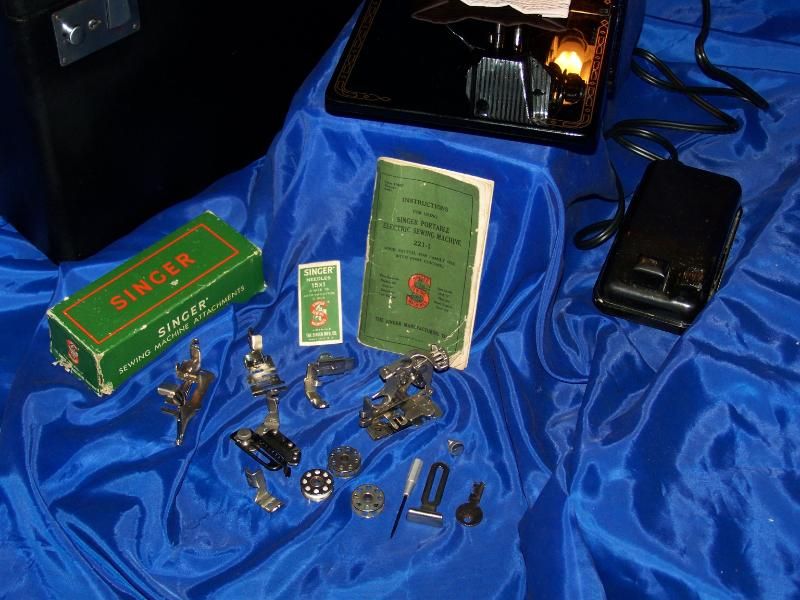 ORIGINAL ATTACHMENT BOX
ATTACHMENTS
BOBBINS
NEEDLES
CLOTH GUIDE W/THUMB SCREW
SMALL SCREW DRIVER
1 CASE KEY
NICE FOOT CONTROL
W/NEW CORD
GREAT FEET ON MACHINE AND FOOT CONTROL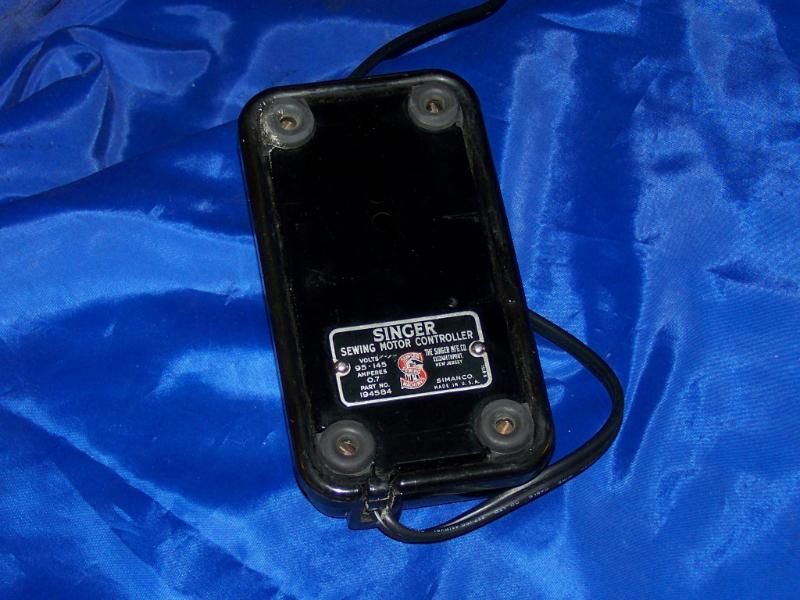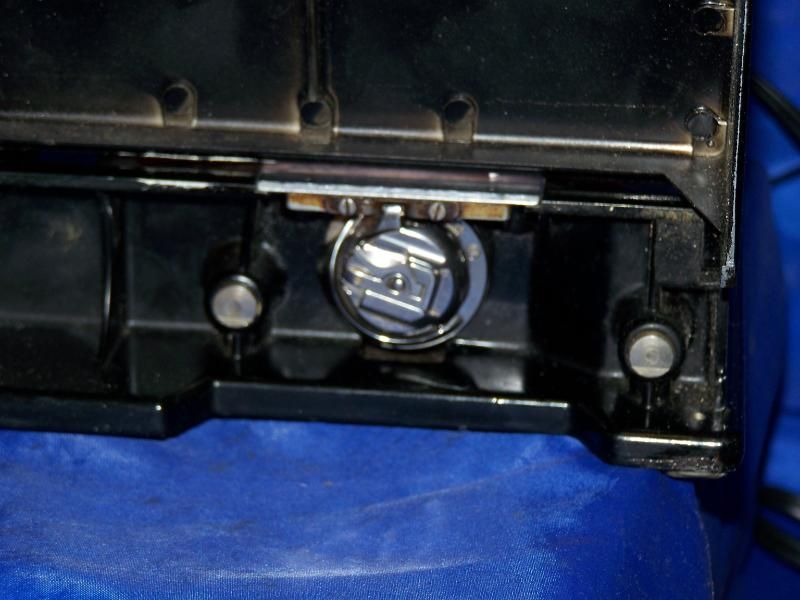 BOBBIN CASE PRE-SET OILED AND WORKS GREAT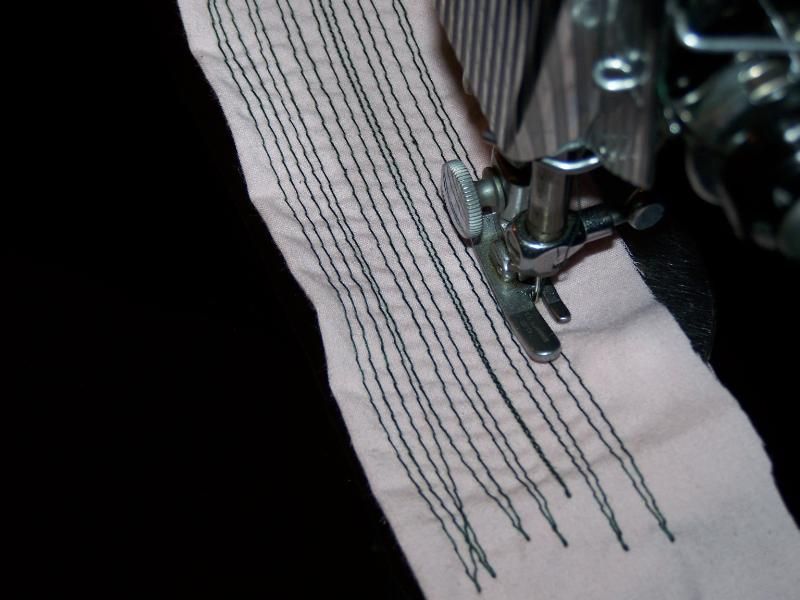 SEWS A GREAT STITCH
I HAVE STITCHED WITH DIFFERENT LENGTHS AND THREAD TENSIONS
WORKS GREAT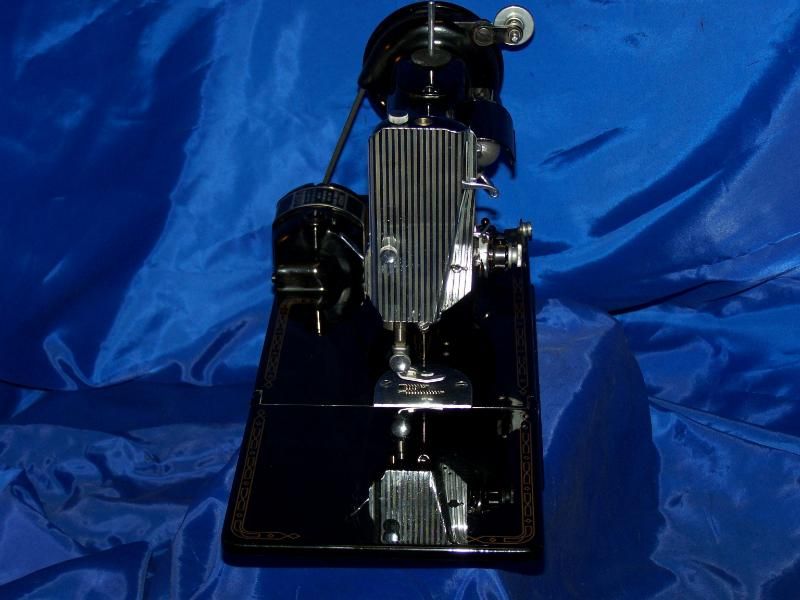 THIS IS ORIGINAL


DUST IS FREE
BOSS KNOB, HANDWHEEL IN GREAT SHAPE
3 PRONG PLUG IN GREAT SHAPE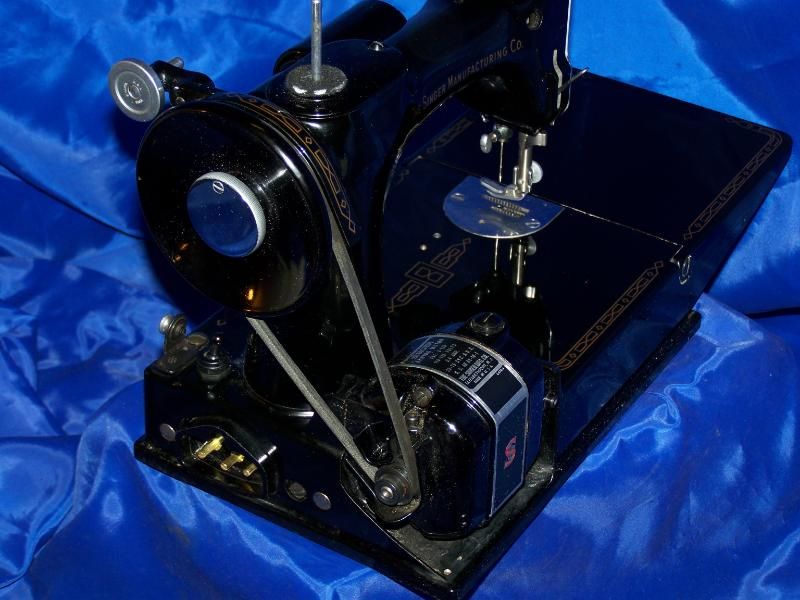 BELT IS IN GREAT SHAPE

110V MOTOR RUNS GREAT AND IS A STRONG RUNNER
SEWS LIGHTING FAST.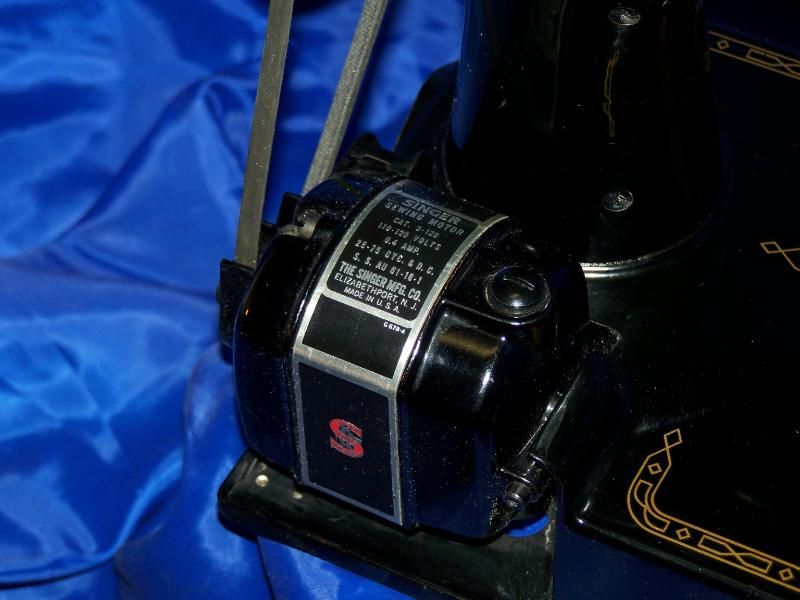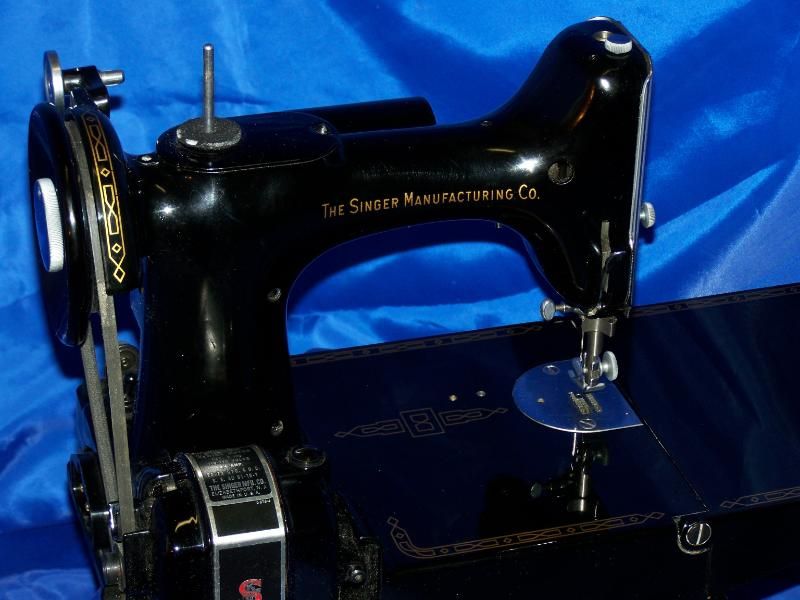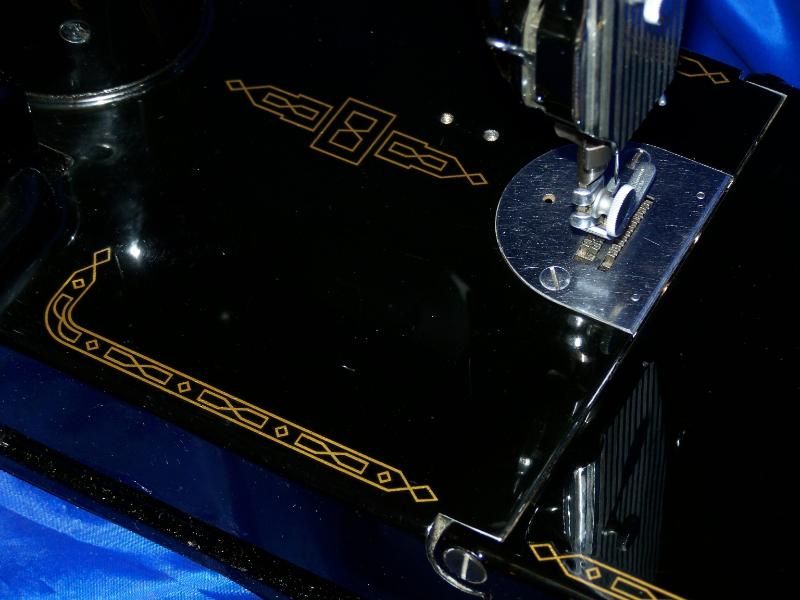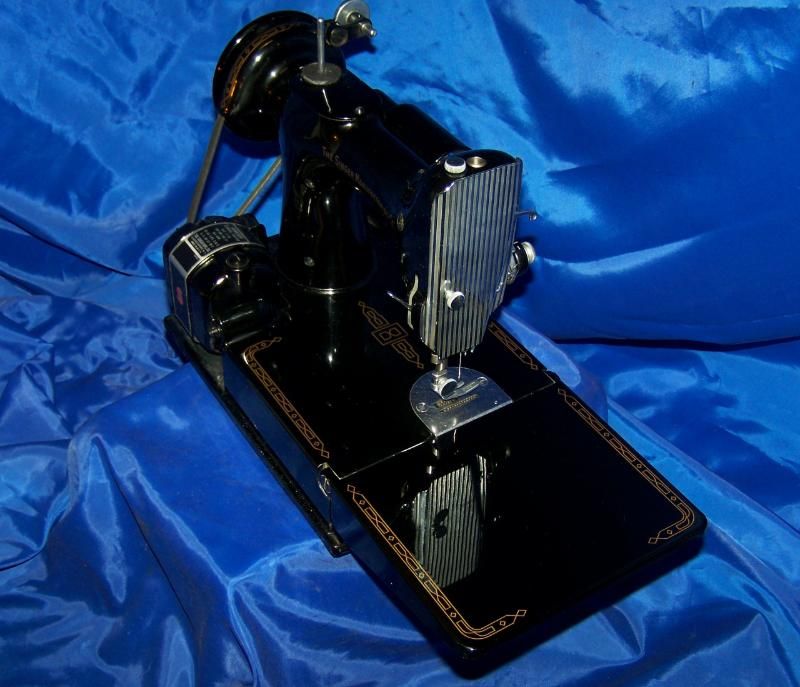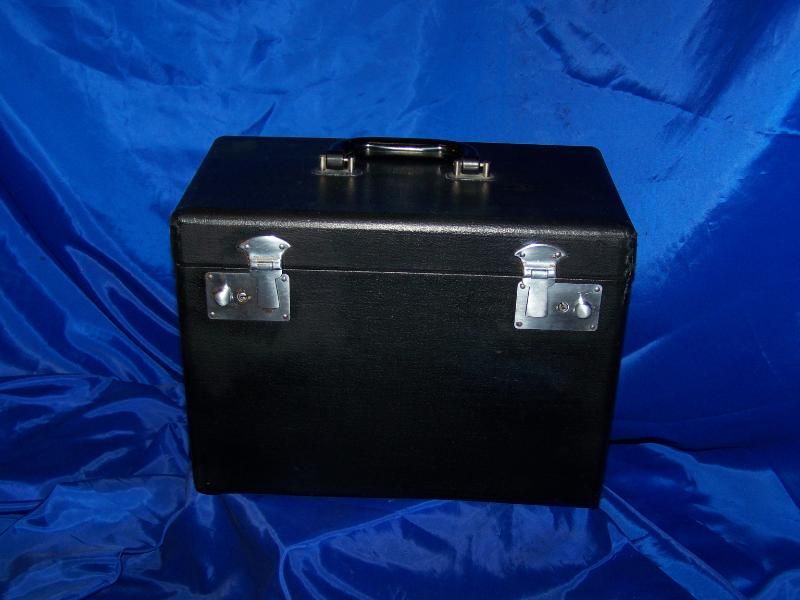 CASE IS STRONG AND IN GREAT SHAPE
LATCHES WORK GREAT
COMES WITH ONE KEY


HINGES ARE IN GREAT SHAPE


BOTTOM OF CASE IN GREAT SHAPE




SMALL TRAY AND GREAT DESIGN ON INSIDE OF CASE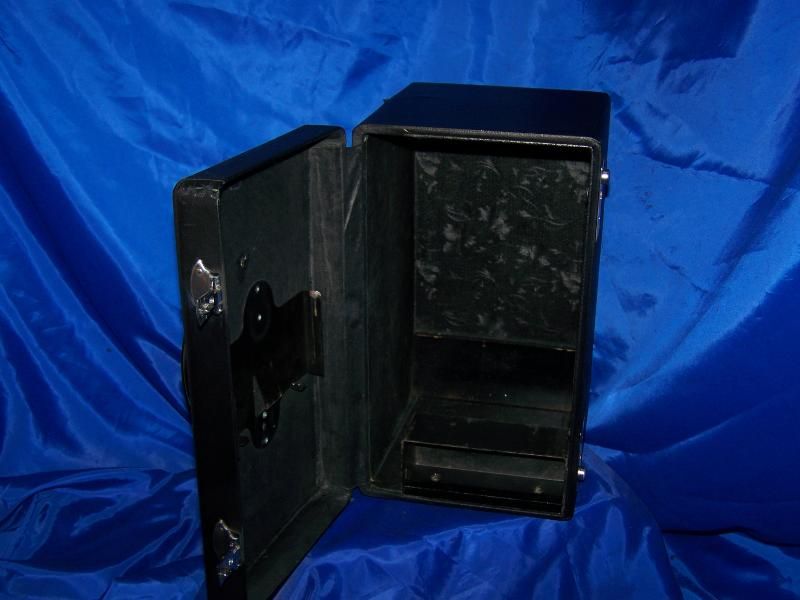 ORIGINAL VINTAGE CASE IN WONDERFUL CONDITION

SINGER 221 FEATHERWEIGHT
THIS LOVELY LITTLE FEATHERWEIGHT AND ALL THINGS TO MAKE YOUR SEWING OR A COLLECTION COMPLETE THIS PICTURE SHOWS ATTACHMENTS ALONG With THE CARRYING CASE & METAL TRAY, FOOT CONTROL THE INSTRUCTION MANUAL, 110 Volt electric.


Singer Featherweight 221

THIS LITTLE MACHINE HAS SOME NICE FEATURES
· THE GOLD TRIM IS OR VERY CLOSE TO 100% INTACT!!!
· THE FINISH IS BLACK AND SHINY, It is WHAT I WOULD CALL A MIRROR FINISH!!!
HAS VERY FEW BLEMISHES LIGHT SCRATCHES
· THIS MACHINE IS A STRONG RUNNER!!!
· IT HAS BEEN PROFESSIONALLY TUNED!!!
· THE BELT AND TENSIONS PROPERLY ADJUSTED!!!
· THE GEARS PROPERLY LUBRICATED!!!
· THE LIGHT WORKS!!!
· THIS MACHINE COMES WITH ATTACHMENTS!!!
· 1 SPOOL OF THREAD!!!
· PACKAGE OF EXTRA NEEDLES!!!
· BOBBIN AND CASE AS WELL AS EXTRA BOBBINS!!!
· ATTACHMENTS FOR COMMON EVERYDAY SEWING!!!
· THE HANDLE ON CARRYING CASE IS IN GOOD SHAPE!!!
· THE CASE IS SOLID IN GOOD CONDITION!!!
· THE LATCHES WORK GREAT AND THE HINGES ARE IN GREAT CONDITION!!!
· THE FOOT PEDAL AND WIRES ARE IN GREAT SHAPE WITH NEW WIRING!!!
· VINTAGE INSTRUCTION BOOK!!!
· YOU REALLY CAN'T GO WRONG WITH THIS 221 FEATHERWEIGHT, IT SEWS SMOOTH AND MAKES A GREAT STRAIGHT STITCH!!!
IT HAS LOTS OF ATTACHMENTS!!!
· IT CAN BE USED AS AN EVERYDAY MACHINE OR AS A NICE MACHINE FOR COLLECTOR.
This machine can make 6-30 stitches per inch, with reverse and nice slow to fast speed.
"SINGER" THE BEST-KNOWN AND RESPECTED NAME THE IN SEWING MACHINES FOR MORE THAN 150 YEARS SERVING THE CUSTOMER.
YOU CAN BE CONFIDENT THAT THIS EXTRAORDINARY MACHINE WILL LAST YOU UNTIL YOU WANT TO GIVE UP SEWING. THIS MACHINE WILL BE HERE WAY PAST THE TIME YOU WILL NEED IT.
You will love this little Singer featherweight, all of the attachments and extras that go along with this auction. This lovely little beauty will please YOU.

BUY IT NOW
$525.00
SHIPPING 23.00
SOLD